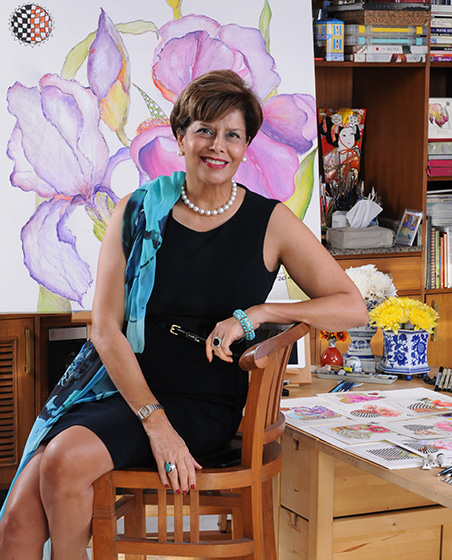 Mrinalini is an internationally known artist recognised for her exclusive, abstracted flower paintings. Inspired and fascinated by her love of flowers, she has been painting since childhood.
While exploring the theme of 'greater clarity through contrast', Mrinalini blends floral expressions with contrasting black and white geometric patterns, creating harmonised mosaics with a contemporary artistic flavour.
Her work symbolises her belief that while individual human beings are essentially unique, in essence we are all interconnected. This recurring narrative of oneness has been reinforced by her extensive travels across continents over the past four decades.
Mrinalini's paintings bring a vibrant perspective to her celebration of joie de vivre and natural beauty. She has exhibited her works in several countries and currently lives in New Delhi.
Artist's Statement
I have loved to paint since I was a child. And have always loved flowers and nature.
I began a more serious pursuit of my passion by painting colourful birds in watercolours in the early 1990s. That naturally led me to painting beautiful flowers in a botanical style.
Over the last thirty years I have researched and studied extensively the varying styles and techniques of the masters and artists who specialize in painting flowers, nature and other subjects of interest to me.
As a professional artist for the last twenty years, I have experimented with painting flowers and their abstractions in all kinds of different mediums - from watercolours, oils, acrylics, pen and ink, mixed media - and now back to watercolours again!
I have come "Full "
Fine art painting is an evolving and dynamic creative pursuit. As such, my work has developed and evolved into a free and independent style that is an eclectic mix of all that I love and enjoy!
My travels around the world - as the wife of a diplomat - have helped to influence my artistic style and further hone my skill as an artist. It has given me wonderful opportunities to embrace and reflect some subtle elements of the art and culture of the numerous countries I have lived in and was privileged to call my home.
Grateful to be an artist, I continue to feed my passion for painting what is beautiful and that which feeds my spirit. I paint what always fires my imagination, inspires me, brings me joy and what I love.
I'm happy and confident to bring in contrasting elements along with bold black and white geometrical patterns into my artwork. I'm also happy to experiment with new artistic elements and dramatic colours - all the while adhering to an overall sense of balance, symmetry, harmony, beauty and aesthetics.
In recent times, I have been inspired to bring in some more decorative elements by painting pots and vases - along with my signature flowers - in what I group as my "Pot Series". This series also includes a celebration of my passion for painting blue and white chinoiserie!
I feel our work here is never done, never finished and neither are we... life is always coming "Full ."

Mrinalini Singh - Timeline
Born in Shimla, Himachal Pradesh, India on December 31

2019

Mrinalini's Exclusive Watercolours Autumn Exhibit, October 2 - 3, 2019. Gallery SanKaiBi, Chuo - Ku, Nihonbashi, Tokyo, Japan.

2019

Mrinalini 2019 - "Full " - 15 to 28 March, 2019, Gallery SanKaiBi, Chuo - ku, Tokyo

2017

"Mrinalini 2017~Awakening~", Ginza Mitsukoshi, Tokyo, Japan

2015

"Mrinalini 2015~Joy~", Ginza Mitsukoshi, Tokyo, Japan

2013

"Mrinalini 2013~Art of Power~", Gallery SanKaiBi, Tokyo, Japan

2012

"Mrinalini 2012~In the Moment~", Gallery SanKaiBi , Tokyo, Japan

2010

"Mrinalini 2010", Gallery SanKaiBi, Tokyo, Japan

2010

"Empower", Ikeda Museum, Niigata Pref, Japan

2008

"Colours of Life", Four Seasons Art Gallery, Tokyo, Japan

2008

"My Garden", City Club of Tokyo, Tokyo, Japan

2006 - 2008

Sumie and Nihonga art group with Shota Ohta, Tokyo, Japan

2005

"Roses from Me to You", Hotel Gran Melia Gallery, Jakarta, Indonesia

2003

"Mandala - An Inner Journey", Koi Gallery, Jakarta, Indonesia

2003 - 2004

Created sculptures in studio of Sculptor Dolorosa Sinaga, Jakarta, Indonesia

2003

"Emerging Expatriates", Group Exhibition, Gallery Lingar, Jakarta, Indonesia
Workshop with David Schorr, American Artist and Professor from Wesleyan University at Visual Arts Gallery, India Habitat Centre, New Delhi, India

2002

Solo Exhibition, Los Lagartos Country Club Gallery, Bogota, Colombia
Group Exhibition, Watercolors, Country Club of Bogota, Bogota, Colombia

1999 - 2002

Created art in studio of Maestro Armando Villegas, Bogota, Colombia

1997

Group Exhibition, Watercolors, United Nations, Geneva, Switzerland

1997

Workshop with Larisa Sembaliuk, Canadian Watercolor Artist, at Botanical Garden, Geneva, Switzerland
Group Exhibition, Watercolors, United Nations, Geneva, Switzerland

1992

Group Exhibition, Watercolors, Lalit Kala Academy, New Delhi, India